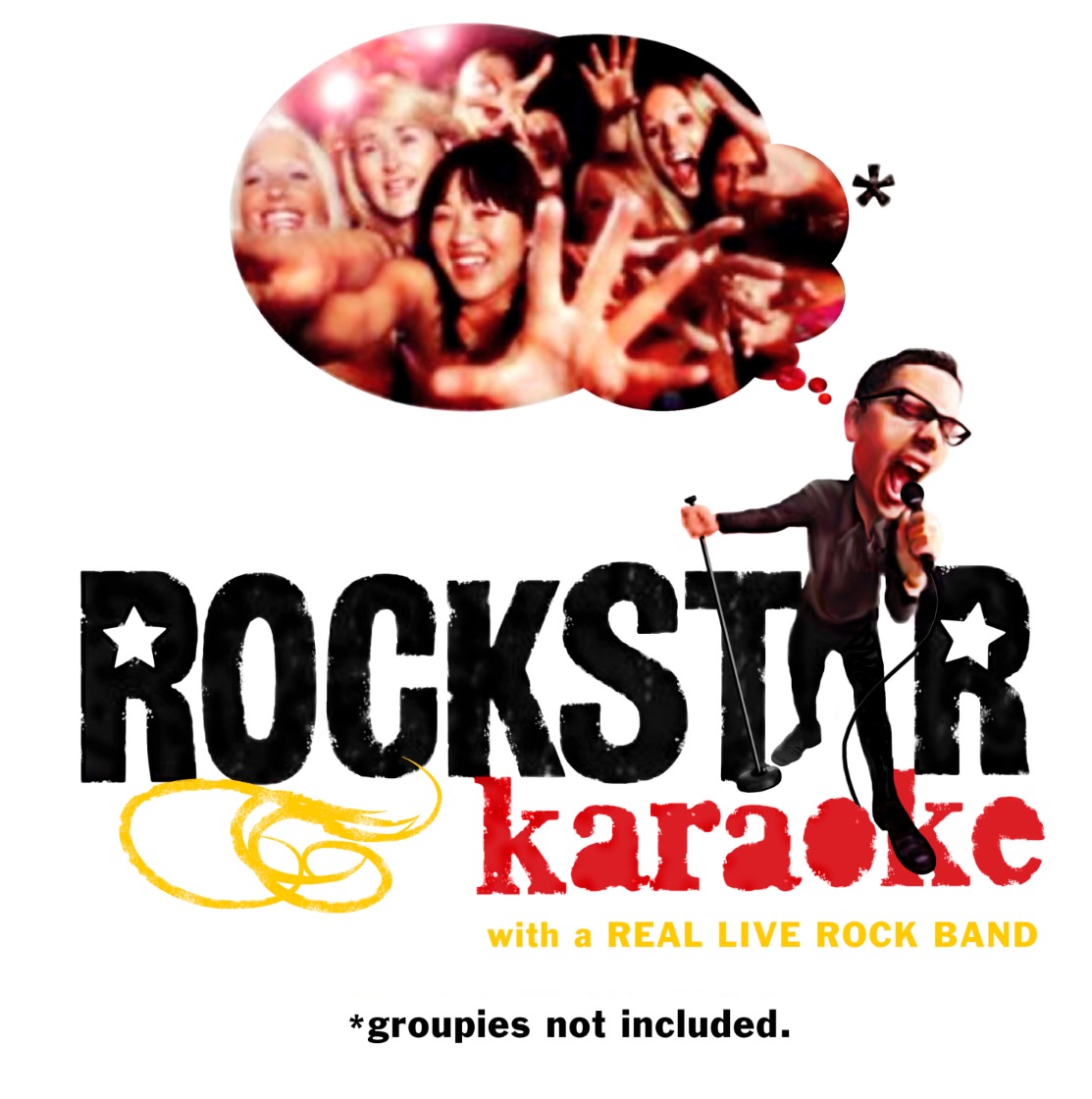 About
Rockstar Karaoke allows you to live out your Rock & Roll fantasies and sing your favorite hits with a real, live rock band!
show more
This isn't your run-of-the-mill karaoke! Rockstar Karaoke puts you center stage with our full band providing the driving rhythm, the hot guitar licks and the backing vocals while you belt out your favorite selections from a list of nearly 200 Rockstar Karaoke mega-hits.
Rockstar Karaoke provides you with moving lyrics on a teleprompter just like regular Karaoke only this is live band karaoke. Rockstar Karaoke, where you are the Rockstar.
show less
Song List
ABBA – DANCING QUEEN
AC/DC – BACK IN BLACK
AC/DC – HIGHWAY TO HELL
AC/DC – YOU SHOOK ME ALL NIGHT LONG
AEROSMITH – DREAM ON
AEROSMITH – WALK THIS WAY
ALANIS MORISSETTE – YOU OUGHTA KNOW
ALICE IN CHAINS – MAN IN THE BOX
ALICE COOPER – SCHOOLS OUT
ALICIA KEYS – FALLIN
ARETHA FRANKLIN – RESPECT
AUTOGRAPH – TURN UP THE RADIO
(THE) BACKSTREET BOYS – EVERYBODY
BAD COMPANY – CAN'T GET ENOUGH
(THE) BANGLES – WALK LIKE AN EGYPTIAN
BARRY MANILOW – COPACABANA
(THE) BEACH BOYS) – CALIFORNIA GIRLS
(THE) BEASTIE BOYS – FIGHT FOR YOUR RIGHT
(THE) BEATLES – SHE LOVES YOU
(THE) BEE GEES – STAYIN ALIVE
BILLY IDOL – REBEL YELL
BLONDIE – CALL ME
BLONDIE – HEART OF GLASS
BOBBY BROWN – MY PEROGATIVE
BOBBY DARIN – BEYOND THE SEA
BON JOVI – BAD MEDICINE
BON JOVI – LIVIN ON A PRAYER
BON JOVI – LAY YOUR HANDS ON ME
BON JOVI – WANTED: DEAD OR ALIVE
BON JOVI – YOU GIVE LOVE A BAD NAME
BONNIE RAITT – SOMETHING TO TALK ABOUT
BOSTON – MORE THAN A FEELIN
BRITNEY SPEARS – CRAZY
CAMEO – WORD UP
CAPTAIN AND TENILE – LOVE WILL KEEP US TOGETHER
THE CARS – JUST WHAT I NEEDED
THE CARS – YOU MIGHT THINK
CHEAP TRICK – I WANT YOU TO WANT ME
CHER – BELIEVE
CHRISTINA AGUILERA – GENIE IN A BOTTLE
CHRISTINA AGUILERA – WHAT A GIRL WANTS
CHUMBA WUMBA – TUBTHUMPIN
CINDERELLA – SHAKE ME
CINDY LAUPER – GIRLS JUST WANNA HAVE FUN
(THE) CLASH – ROCK THE CASBAH
(THE) COMMODORES – BRICK HOUSE
(THE) COUNTING CROWS – ACCIDENTALLY IN LOVE
CREEDENCE CLEARWATER REVIVAL – PROUD MARY
(THE) CURE – JUST LIKE HEAVEN
DAVID BOWIE – REBEL REBEL
DEAD OR ALIVE – YOU SPIN ME RIGHT ROUND
DEEE LITE – GROOVE IS IN THE HEART
DEEP PURPLE – SMOKE ON THE WATER
DEF LEPPARD – PHOTOGRAPH
DEF LEPPARD – POUR SOME SUGAR ON ME
DEVO – WHIP IT
DEXY'S MIDNITE RUNNERS – COMON EILEEN
DIVINYLS – I TOUCH MYSELF
DOBIE GRAY/UNCLE CRACKER – DRIFT AWAY
DOKKEN – IN MY DREAMS
DONNA SUMMER – BAD GIRLS
(THE) DOORS – LIGHT MY FIRE
DURAN DURAN – GIRLS ON FILM
DUSTY SPRINGFIELD – SON OF A PREACHER
(THE) EAGLES – ALREADY GONE
(THE) EAGLES – TAKE IT EASY
ELTON JOHN – BENNIE AND THE JETS
ELVIS PRESLEY – CAN'T HELP FALLING IN LOVE
ELVIS PRESLEY – JAILHOUSE ROCK
EMF – UNBELIEVABLE
EUROPE – FINAL COUNTDOWN
EVANESCENCE – BRING ME TO LIFE
FIONA APPLE – CRIMINAL
FOO FIGHTERS – EVERLONG
FOREIGNER – DOUBLE VISION
FOREIGNER – FEELS LIKE THE FIRST TIME
FOREIGNER – HOT BLOODED
FRANK SINATRA – NEW YORK NEW YORK
FREE – ALRIGHT NOW
GREEN DAY – LONGVIEW
GLORIA GAYNOR – I WILL SURVIVE
(THE) GO GOS – WE GOT THE BEAT
GOOD CHARLOTTE – LIFESTYLES OF THE RICH & FAMOUS
GRAND FUNK – AMERICAN BAND
(THE) GUESS WHO – AMERICAN WOMAN
GUNS N ROSES – SWEET CHILD O MINE
GUNS-N-ROSES – WELCOME TO THE JUNGLE
HOUSE OF PAIN – JUMP AROUND
(THE) HUMAN LEAGUE – DONT YOU WANT ME BABY
INXS – NEW SENSATION
IRON MAIDEN – RUN TO THE HILLS
JEAN KNIGHT – MR. BIG STUFF
JENNIFER LOPEZ – IF YOU HAD MY LOVE
JIMI HENDRIX – PURPLE HAZE
JOAN JETT – I LOVE ROCK AND ROLL
JOHN LENNON – IMAGINE
JOHN MELLENCAMP – HURT SO GOOD
JOHN TRAVOLTA & OLIVIA NEWTON JOHN – SUMMER
NIGHTS
JOHN WAITE – CHANGE
JOURNEY – DON'T STOP BELIEVING
JUDAS PRIEST – ANOTHER THING COMIN
JUDAS PRIEST – LIVIN AFTER MIDNIGHT
KATRINA AND THE WAVES – WALKING ON SUNSHINE
KATY PERRY – I KISSED A GIRL
KC AD THE SUNSHINE BAND – GET DOWN TONITE
KELLY CLARKSON – SINCE U BEEN GONE
KELLY CLARKSON – WALK AWAY
KID ROCK – ALL SUMMER LONG
KID ROCK/SHERYL CROW – PICTURE
KIM WILDE – KIDS IN AMERICA
KINGS OF LEON – USE SOMEBODY
KISS – LICK IT UP
KISS – ROCK N ROLL ALL NIGHT
(THE) KNACK – MY SHARONA
KOOL AND THE GANG – CELEBRATION
LA BELLE/CHRISTINA AGUILARA – LADY MARMALADE
LADY GAGA – BORN THIS WAY
LED ZEPPELIN – KASHMIR
LIT – MY OWN WORST ENEMY
LOU BEGA – MAMBO #5
LOVERBOY – WORKING FOR THE WEEKEND
LYNYRD SKYNYRD – SWEET HOME ALABAMA
MADONNA – LIKE A VIRGEN
MADONNA – MATERIAL GIRL
MEN WITHOUT HATS – SAFETY DANCE
MIAMI SOUND MACHINE – CONGA
MICHAEL JACKSON – BEAT IT
MICHAEL JACKSON – DONT STOP TIL YOU GET ENOUGH
MISSING PERSONS – WALKIN IN LA
MOTLEY CRUE – GIRLS GIRLS GIRLS
MOTLEY CRUE- HOME SWEET HOME
MOTLEY CRUE – LOOKS THAT KILL
MOTLEY CRUE – SHOUT AT THE DEVIL
MUSE – UPRISING
NANCY SINATRA – THESE BOOTS ARE MADE FOR WALKIN
NEIL DIAMOND – SWEET CAROLINE
NIGHT RANGER – DON'T TELL ME YOU LOVE ME
NIRVANA – SMELLS LIKE TEEN SPIRIT
NO DOUBT – HELLA GOOD
(THE) OUTFIELD – YOUR LOVE
OUTKAST – HEY YA
OZZY OSBOURNE – CRAZY TRAIN
OZZY OSBOURNE – MR CROWLEY
PAT BENATAR – HIT ME WITH YOUR BEST SHOT
PAULA ABDUL – STRAIGHT UP
PINK – GET THE PARTY STARTED
POISON – NOTHIN BUT A GOOD TIME
POISON – TALK DIRTY TO ME
POISON – UNSKINNEY BOP
(THE) POLICE – EVERY BREATH YOU TAKE
PRINCE – LET'S GO CRAZY
PRINCE – 1999
QUIET RIOT – CUM ON FEEL THE NOIZE
QUIET RIOT – METAL HEALTH
RATT – ROUND AND ROUND
RED HOT CHILLI PEPPERS – UNDER THE BRIDGE
RICK SPRINGFIELD – JESSE'S GIRL
RICKY MARTIN – LA VIDA LOCA
(THE) RIGHTEOUS BROTHERS – YOU'VE LOST THAT LOVIN FEELING
(THE) ROLLING STONES – BROWN SUGAR
(THE) ROMANTICS – WHAT I LIKE ABOUT YOU
ROSE ROYCE – CAR WASH
RUPERT HOLMES – ESCAPE (THE PINA COLDA SONG)
SAM AND DAVE – SOUL MAN
SANTANA – SMOOTH
SCORPIONS – ROCK YOU LIKE A HURRICANE
SHERYL CROW – EVERY DAY IS A WINDING ROAD
SISTER SLEDGE – WE ARE FAMILY
SMASH MOUTH – WALKIN ON THE SUN
SOFT CELL – TAINTED LOVE
STEELY DAN – REELIN IN THE YEARS
STEPPENWOLF – BORN TO BE WILD
STEVE MILLER – THE JOKER
STEVE MILLER – ROCK-N-ME
SURVIVOR – EYE OF THE TIGER
TEARS FOR FEARS – EVERYBODY WANTS TO RULE THE WORLD
THE TIME – JUNGLE LOVE
THIN LIZZY – THE BOYS ARE BACK IN TOWN
TLC – NO SCRUBS
TOMMY TUTONE – 867-5309
TOM PETTY – I NEED TO KNOW
TOM PETTY – I WON'T BACK DOWN
TONI BASIL – OH MICKEY
T. REX – BANG A GONG
THE TROGS – WILD THING
TWISTED SISTER – I WANNA ROCK
TWISTED SISTER – WERE NOT GONNA TAKE IT
U2 – VERTIGO
VAN HALEN – JUMP
VAN HALEN – PANAMA
VAN HALEN – YOU REALLY GOT ME
(THE) VILLAGE PEOPLE – YMCA
WARRANT – CHERRY PIE
WARRANT – DOWN BOYS
WHAM – WAKE ME UP
WHITE LION – WAIT
WHITESNAKE – HERE I GO
WHITESNAKE – SLIDE IT IN
WHITESNAKE – STILL OF THE NIGHT
WILD CHERRY – PLAY THAT FUNKY MUSIC
Country Song List
BIG AND RICH- KICK MY ASS
BIG AND RICH- ROLLIN
BIG AND RICH- SAVE A HORSE
BILLY RAY CYRUS- ACHEY BREAKY HEART
BRAD PAISLEY- ALCOHOL
BRAD PAISLEY- THE WORLD
BROOKS AND DUNN- BOOT SCOOT BOOGIE
BROOKS AND DUNN- HILLBILLY DELUXE
CRAIG MORGAN- A LITTLE BIT OF LIFE
DAVID ALLEN COE – YOU NEVER CALL ME BY MY NAME
DIERKS BENTLEY- WHAT WAS I THINKIN
DOLLY PARTON – 9 TO 5
DWIGHT YOKUM- FAST AS YOU
DWIGHT YOKUM- IT ONLY HURTS ME WHEN I CRY
GARTH BROOKS- FRIENDS IN LOW PLACES
GEORGE STRAIT-ALL MY EX'S LIVE IN TEXAS
HANK WILLIAMS- HEY GOOD LOOKIN
HANK WILLIAMS JR- FAMILY TRADITION
JACK INGRAM- LOVE YOU
JAMES OTTO – JUST GOT STARTED
JERRY REED- EASTBOUND AND DOWN
JOE NICHOLS- TEQUILA MAKES HER CLOTHES FALL OFF
KEITH ANDERSON -PICKIN WILDFLOWERS
KENNY CHESNEY- SHE THINKS MY TRACTOR'S SEXY
LEANN RIMES- NOTHIN BETTER TO DO
LUKE BRYAN- ALL MY FRIENDS SAY
MONTGOMERY GENTRY- HELL YEAH
PATSY CLINE – CRAZY
RASCAL FLATTS- LIFE IS A HIGHWAY
SHANIA TWAIN – YOU'RE STILL THE ONE
SHOOTER JENNINGS- STEADY AT THE WHEEL
STEVE FOWLER – LONG LINE OF LOSERS
STEVE HOLY- I GOT A BRAND NEW GIRLFRIEND
TIM MCGRAW- SOMETHING LIKE THAT
TOBY KEITH- GET DRUNK AND BE SOMEBODY
TOBY KEITH- GET MY DRINK ON
TOBY KEITH- HIGH MAINTENANCE WOMAN
TOBY KEITH- A LITTLE TOO LATE
TRACE ADKINS- HONKY TONK BADONKADONK
WHISKEY FALLS – FALLING INTO YOU
THE WRECKERS- LEAVE THE PIECES
WILLIE NELSON- ON THE ROAD AGAIN